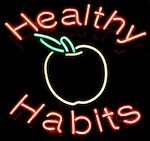 Habits: We all have them. Good habits, ones like exercising or flossing, can be a big plus, helping you improve your life without even thinking about it. Bad habits – well, we all know what those are and we've all got 'em – can be a drag on your life and keep you from achieving  your goals.
As in life, so in songwriting. There are good songwriting habits that can help you achieve your goals faster, and bad habits that can cause you to write the same unsuccessful song over and over.
Have you ever noticed yourself falling into the same melody, chord, or lyric writing patterns in song after song? This is songwriting from habit. Often it means you're writing the first thing that occurs to you. It could be a chord progression or melody style you've heard over and over again in the music you grew up with. It became so ingrained that it now feels natural and spontaneous.
Sometimes we mistake this for an "authentic voice." But it's no more authentic than anything else. It's just what comes out of you first.
The problem with habits is…
What happens when you get locked into habits? You get bored. If you're writing the same transitions or payoff lines exactly the same way in song after song, if you don't have enough new choices when you're writing, you can get frustrated and stop writing. And you don't want that!
I'm not going to suggest that you toss out your old songwriting habits. Instead, I'm going to suggest that you add MORE habits that will give you MORE choices when you're writing. If you add new habits, you'll find that you spontaneously come up with new ideas for melodies, lyrics, and chords when you're writing. You can choose to use them or not – that's up to you.
Old habits can cause you to write dated songs
Just like fashions in clothes, fashions in music change over time. The melody, chord, and lyric habits you learned from the music you grew up with have evolved into something new. Frequently, these new ideas build on and incorporate older styles, so it's good to know both!
It's vital to look for new techniques that create a novel twist or fresh edge. Acquiring these skills, and turning them into habits, can help you move beyond older, retro-style songs, becoming more competitive and contemporary.
Old habits can lead to writers block 
Often writers block is caused by the lack of a solution to a problem. If you're wrestling with a  transition from verse to chorus and you just can't come up with one that works, you may find yourself blocked. You might even give up on the song. But maybe the solution is just finding some new ways to write transitions when all the old ones you've been using don't work.
Here are more ideas on beating writer's block. 
How to create new songwriting habits 
Something becomes a habit through repeated use. So, building a new songwriting habit takes time and repetition. The more you repeat it, the quicker the new habit forms.
The best way to practice new songwriting habits is to learn to play and sing successful hit songs that you like. On its own, listening can help but it won't "embed" the habit as quickly or as effectively as physically playing and singing the song. If you don't play an instrument, get a karaoke track and sing along, or just sing along with the original recording. Put it in your body! You want to make this new habit an unconscious reaction, and that means using your muscle memory.
Start by choosing a recent hit song that appeals to you. This alone is a good exercise if you haven't been keeping up with current trends. TIP: The radio is not a good place to study songs! The commercials are irritating, the yapping DJs are distracting, and who wants to listen to all those songs you don't like!
Instead, go to the music charts at www.Billboard.com or www.BDSradio.com. (I prefer the BDS charts myself.) Select a genre you're interested in and look through it for current hits. Write down a few titles and then preview these songs at iTunes. When you find one you like, buy it and learn it. You can find the chords and lyrics online – just search by the song title and artist.
PLAY AND SING THE SONG UNTIL YOU KNOW IT! If the melody or chords do something you don't expect, that's good. You might find an unexpected twist like that will pop up for you in the next song you write. Notice where the melody lines start and end, how the lyrics use images to paint a picture or create emotion, and what the chorus progression is doing.
I'm not suggesting that you copy anything in the hit song. Just learn from the techniques that are being used and get a feel for how to use them. Then blend these  ideas with your own style to create something fresh.
Find out more about studying hit songs in today's genres.
by Robin Frederick