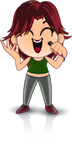 If you want to write songs but don't play piano or guitar, don't let that stop you. There are plenty of online resources and useful tools for creating tracks to write to or accompany your existing melody and lyrics.  Even if you're a musician, it's fun to use some of these songwriting tools to break out of old habits and get inspired.
1. KARAOKE TRACKS – Buy or stream a Karaoke recording and write your own melody and lyrics to the hit song track – just be sure you don't use any of the lyrics or melody of the hit song. Karaoke tracks are available at iTunes or Amazon.com. One of my favorite sources is www.Karaoke-Version.com. You can buy the instrumental track without backing vocals.
The karaoke track is copyrighted so you won't be able to use it to pitch your song but it will give you a fun way to write songs for personal use or you can replace the karaoke track with one from a demo  production studio.
2. PRE-RECORDED SONG TRACKS – You can buy pre-recorded song tracks from DrumsOnDemand.com and WriterTracks.com. These are laid out in Verse/Chorus form and are available in a range of music styles. Most are fully produced with drums, bass, guitar, etc. There are some limitations on uses so read the FAQ sections.
Learn more about song structure and why the Verse / Chorus form is so popular.
3. WEB SITES – Here are some online music creation web sites you can use to create song tracks for your melody and lyrics or provide a music track to write to. I like to write to a guitar or drum groove to get a feel for the energy of the song I'm writing.  It puts me in the mood.
JamStudio.com – This is a fun site and fairly easy to use. Find a guitar or drum groove you like, choose a few chords and write a song. If you sign up for the low monthly fee version, you can export your tracks as mp3 files, then write lyrics/melody and record a vocal over the track using a free music editor like Audacity.
Ujam.com – The best thing about this site, you can record or upload a vocal melody and Ujam.com will create a backing track for it. Then tweak the chords and music style until you get something you like.
4. MUSIC SOFTWARE – Music apps like Garageband (for Mac) or ACID Xpress (PC and FREE!) have libraries of pre-recorded drum, guitar, and keyboard loops you can string together to create a music track. Again, there are limitations but if you can creatively work around them – and a lot of people do – you can end up with a good song.
5. CO-WRITE – Collaborate with a friend who can play a few chords on guitar or keyboard. You can feel comfortable working with someone you know and you could end up with a good song!
Go ahead – Collaborate! Find out where to find co-writers and how to get started.
6. BAND IN A BOX (PC or Mac) – Just pick a song style ask BIAB to create a chord progression for you or enter a few chords yourself. It will play drums, bass, piano, guitar, strings, etc. You can mute the parts you don't want. Just for fun, have BIAB write a few bars of melody line, then get creative with it yourself. This is the most expensive option here but one of my favorite resources. You don't have to buy the big Megapak version.  Get started with a basic version then look through the various styles that are available to buy separately.
Get Band in a Box for PC at Amazon.com.
Get Band in a Box for Mac at Amazon.com.
7. LEARN THE CHORDS – Learn the basic six "songwriter chords" on piano or guitar – C, Dm, Em, F, G, Am  . You can play most songs on guitar or electronic keyboard with those six simple chords. You do NOT need to be able to read notes. Here's a website that will show you how to play these chords on piano. Here's one that will show you how to play guitar chords.
Now that you have some ideas for creating music tracks, how about writing a Pop song! Here are 10 ideas for starting, developing and finishing a song in the Pop genre. (And it works for Country and Rock, too.)
Good luck and may your songs flow!
by Robin Frederick