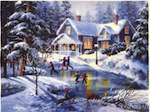 Unlike radio hits that burst on the scene then fade away, holiday songs have a long, long lifespan. Almost every major artist records at least one album of holiday songs. Sure they include the songs everyone knows and loves, but they need to sprinkle in a few potential new holiday hits, too. So, while the sights, sounds, and excitement of the season are all around., take the time to look and listen like a songwriter. Make a note of images, grab snippets of conversation. Be aware of your own feelings. Remember the holidays of your childhood. You'll use all these ideas to make your song  fresh and emotionally honest.
Themes
One of the biggest challenges of writing a holiday song is coming up with a new idea or approach. A generic holiday song with all the usual images isn't hard to write but it will be hard to sell. It's been done already…a lot!
Emotional themes: "White Christmas" is a such a classic and we've heard it so many times, it's easy to miss the things that make it so great. The idea of yearning for the ideal Christmas of youth – the white Christmas of dreams – is a powerful, moving theme.  What do you long for? What do you remember? Try writing a song about those feelings. 
Or try a unique emotional twist like We Need a Little Christmas (from the musical Mame) which adds a touch of playful urgency to all the fun. A unique concept like this can make your song stand out.
At the other end of the spectrum is Joni Mitchell's "River." It's a  ballad of regret with a Christmas setting. The theme is an unlikely one, but the vocal is so warm and the melody so sinuous and attractive, it has become a staple of Christmas playlists. Try something like this but keep the lyrics more upbeat.
The holidays conjure up a whole range of emotional themes. Focus on one and express it in vivid images, sounds, and examples!
Religious themes: If you're using a religious theme, consider something like Trisha Yearwood's classic recording of Take a Walk Through Bethlehem.  One moment you're in today's bustling, commercial world, the next on ancient, silent streets. It's handled with subtlety, letting listeners fill in their own thoughts, beliefs, and feelings.
Character/Story themes: A well-drawn character with a story has lots of appeal. Frosty the Snowman and Rudolph the Red Nosed Reindeer are getting a little long in the tooth, doncha think? How about introducing us to an elf with something new to say or Mrs. Claus's opinions about Christmas!
Do It Yourself: Story and character songs are difficult to pitch in the film & TV market. Their details are so specific that the project must be built around them. If you've got a character-driven song think about creating your own animated video with some of the inexpensive, fun-to-use animation software that's available for PC and Mac. Post it on YouTube and mail the link to your family, friends, and fans.  Watch it go viral!!! 🙂
Seasonal themes: You don't have to focus solely on the holiday. There are wonderful seasonal songs that have become holiday standards: "Baby, It's Cold Outside" and "Winter Wonderland" are two great examples. This type of theme gives your song more potential uses, especially in the film and TV market.
WRITING HOLIDAY LYRICS & MELODY
Use images and action words
"Chestnuts roasting on an open fire…" What a wonderful image that is! It involves all the senses: the warmth of a crackling fire, the smell of wood burning, the visual of people gathered around it, their faces lit by the glow. Even though I've never roasted a chestnut in my life, it still works for me.  The Christmas Song written by Mel Torme and Robert Wells – it's undeniably the greatest of holiday classics. And these songwriters could have retired on it.
Vivid, fresh images are at the heart of your holiday song. A songwriter once sent me a lyric he swore was as good as "The Christmas Song." What I heard was a string of familiar images so overused  they had lost all chance of having any emotional impact. But what can you say about Christmas that's new? Hasn't it all been said before? Yes and no. It's HOW you say it that counts.
For example, the first verse of "The Christmas Song" consists of a string of vivid images:  Chestnuts roasting on an open fire, Jack Frost nipping at your nose, Yuletide carols being sung by a choir, and folks dressed up like eskimos.
The word order is completely natural. It's so conversational I can write it in a paragraph, but those are the actual lyrics of the song. Each line describes something familiar in a way that's both visual and physical. Action words like "roasting," "nipping" keep the scene from becoming static. Visual images like "chestnuts," "open fire," and "dressed up like eskimos" add color and paint  a picture in your mind.
Fill your lyrics with sight, sound, and action words! And don't settle for old, familiar phrases and rhymes – think of new ways to say things. That's our job as songwriters.
Watch this video to learn more about using images. 
Melody
Your song needs a melody that's memorable – catchy, easy to remember, yet original enough to attract listeners. That's the combination that ALL songs aim for and for holiday songs, it's especially important.
Melodic Motion: Holiday songs tend to have plenty of motion in the melody. A melody that's confined to a narrow note range creates tension. Movement releases tension. So, most holiday songs with a lot of listener appeal combine smooth flowing phrases with interval jumps. Check out some of your favorite holiday songs and notice how the melody flows smoothly then skips up or down a few notes to keep things interesting.
Melodic Momentum: Today's listeners love a melody that pulls them forward. We use more melodic momentum today than we did in the '40s and '50s when many of the great classics were written. Momentum is created by eliminating pauses where we expect them, by using a variety of phrase lengths, and starting phrases on unexpected beats. (I don't have room to go into depth here. You can find out more about each of these techniques in my book "Shortcuts to Hit Songwriting" in Shortcuts 90 through 95.)
Here are more ideas for writing a memorable melody.
Public Domain melodies: Using a public domain melody, such as a well-known Christmas carol or any song written prior to 1900  is a possibility but it's  risky because people LOVE the original and they don't like to hear a different lyric unless there's a compelling reason. Be sure you lyric has a powerful theme and a vivid, memorable lyric.
THE MARKET
Independent Artists
If you're an indie artist,  a full-length holiday album can be expensive to make. Instead, think about recording an EP of five to six songs or try a holiday single.  Make it available to buy on your Facebook page. Better yet, give one of the tracks away as a special holiday gift to your fans.
Established Artists
Most established artist will already have  a holiday album or two. So music publishers will be pitching to current artists, those with recent breakthrough singles who are making their first holiday album. That means your song should have a current, fresh melody and lyric that will work for someone like Rachel Platten, Luke Bryan, or Justin Beiber.  Your demo should  sound current for the genre the song is in.
Music publishers look for these songs in May or June because they'll be pitching to artists in July and August when holiday albums go into production. This is a niche market and many publishers only look to their "go-to" list of songwriters for these types of songs. You may have better luck with a specialty music publisher like ChristmasSongs.com.
Film & TV holiday songs
Holiday TV shows need plenty of songs. There are new offerings each year and new opportunities to pitch your songs to them. Music libraries will be looking for them in June and July; music supervisors will be looking for them in September and October, sometimes even later in the year depending on when the project is in production.
You can use a pitch service like TAXI.com, a specialty publisher like ChristmasSongs.com, or the "In Production" listings at the Hollywood Reporter or Variety online.
Don't limit yourself to Christmas…
There are holidays all year round and different holidays all over the world. Not all of them have been celebrated with as many classic songs as Christmas. For instance, I've noticed there's a limited number of New Years songs; you might find less competition and more opportunities there.  I mean, how many times can you listen to What Are You Doing New Years Eve?
Most holidays share the same underlying emotions – those are the ones you want to focus on. Holiday songs tend to evoke the happiness, love, hope, and enjoyment we share with others. These emotions are often idealized ("White Christmas"), longed for ("I'll Be Home for Christmas"),  or expressed in melodies and lyrics that make the listener experience them in the present. Think of loved ones, family, friends, and communities while you're writing. Let the emotions lead you.
RECORDING HOLIDAY SONGS
You have a couple of choices when recording a holiday song. You can either go the traditional route or try something completely new and unexpected. Arrangements can be as simple as guitar and vocal or can push a home studio to the limit with authentic-sounding orchestral emulation.  Whichever you choose, the vocal will be the most important element. Keep it sincere and honest and make it your own.
The key to a strong vocal is phrasing and emotion. One of my favorite tricks for creating an authentic, unique performance is to speak the lines with emotion immediately before you record. Say the lines out loud, with plenty of feeling. Then preserve the pauses and emphasis points when you sing.
Seven tips for creating a great vocal performance.
Your instrumental track should be as authentic as your vocal. Thin synthesizer pads and fake choirs just won't work. You'd be much better off recording a simple acoustic guitar track.  Just keep it simple and real and it will shine!
by Robin Frederick