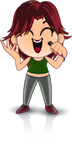 If you want to write songs but don't play piano or guitar, don't let that stop you. There are plenty of online resources and useful tools for creating tracks to write to or accompany your existing melody and lyrics.  Even if you're a musician, it's fun to use some of these songwriting tools to break out of old habits and get inspired.
1. KARAOKE TRACKS – Buy or stream a Karaoke recording and write your own melody and lyrics to the hit song track – just be sure you don't use any of the lyrics or melody of the hit song. Karaoke tracks are available at iTunes or Amazon.com. One of my favorite sources is www.Karaoke-Version.com. You can buy the instrumental track without backing vocals.
The karaoke track is copyrighted so you won't be able to use it to pitch your song but it will give you a fun way to write songs for personal use or you can replace the karaoke track with one from a demo  production studio.
2. PRE-RECORDED SONG TRACKS – You can buy pre-recorded song tracks from DrumsOnDemand.com and WriterTracks.com. These are laid out in Verse/Chorus form and are available in a range of music styles. Most are fully produced with drums, bass, guitar, etc. There are some limitations on uses so read the FAQ sections. Continue reading "How to Write a Song If You Don't Play an Instrument"