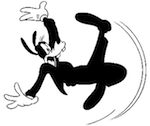 I recently discovered an inspiring, fun, informative website called OpeningLines.org. This blog by Seth Fiegerman takes a look at the very first steps in the careers of the famous and successful.
There are names we all know – actors, musicians, scientists, educators, community leaders, and writers we admire. We don't think of them losing their first talent contest or being told they have no aptitude for the field in which they later dazzle us all. But that – or some form of it – is what happens to many. 
Some of the stories are inspiring, others bring us down to earth. All of them made me feel a little better about my own struggles.  Over and over I found myself saying, "Hey, that happened to me, too." Or "I guess I don't have to be perfect to succeed." Or "Maybe I have enough talent to make it after all."
Copy cat…
Bruce Springsteen's first two recorded songs were so derivative of other hits, he was afraid he'd be accused of plagiarism. The songs were never released. I've also read interviews with him in which he talks about writing 70 songs for his album Darkness on the Edge of Town, recording around 50, then deciding that only 10 were good enough to be included on the final album. My own struggle to write one perfect song kind of makes less sense in that light.
Wait for it…
Sharon Jones and the Dap-Kings put out their first record in 2002 when Jones was in her late 40s. That's a long time to wait and she had to take a lot of other non-musical jobs just to keep going. But she points out she might not have been able to handle the fame when she was young. Just listening to her I'm reminded that the power, sophistication, depth, and resilience in her vocals does not happen when you're 20.
Getting into trouble…
Stephen Colbert worried that he didn't have enough gumption to get work. Stephen Colbert? Not enough gumption?  I worry about the same thing. Colbert goes on: "I mostly just said yes to any opportunity to get on stage. You say yes to something, then you are in trouble. You have to deliver." Wait a minute. That's exactly how I do it. But I thought it was easier for other people.
Don't give up
Check out this excellent interview with Patrick Carney of The Black Keys in which he talks about how he ended up playing drums (everyone else was a better guitar player than he was), his fear of singing, and how many bands broke up before finally starting the one that clicked.
There are more stories of stumbling career launches and wonderful articles sprinkled throughout the site on topics such as "Does Creativity Fade With Age?" and "Where Do Good Ideas Really Come From?"
It's definitely worth spending some time on this site any time you're feeling unsure of yourself and down on your art. It's a reminder that we all had to start somewhere.
by Robin Frederick