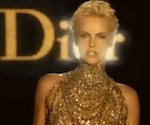 Here's a luxury perfume commercial (Dior) using a song with a raw Indie vibe. The song is "Heavy Cross" by  three-piece Rock band Gossip. Listen to the song and notice how the electric guitar is used to create contrast between sections and drive the beat. The drums back up the guitar in a tight arrangement that adds plenty of punch. No big synthesizer string sections, no horns, no orchestra banging in and out, It's just raw, good-ol' Rock energy.
Watch the commercial on YouTube.
The vocal
The band's singer, Beth Ditto, delivers attitude and power and she has a solid sense of pitch. You could record an edgy Rock song like this with either a male or female vocal. The singer's personality and energy level will need to match the track, but pitch may not be such a big issue. Think of the Talking Heads' "Remain in Light" album. There's a lot of that influence here, especially in the guitar tracks. David Byrne's vocals are expressive and full of character and energy; vocal pitch is definitely secondary.
Instrumental pitches
You could pitch a track like this as an instrumental and it would be a great match for many Continue reading "Raw Sound for a Slick TV Commercial"