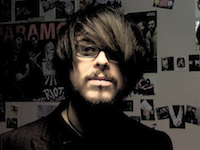 Songwriter Daveit Ferris has taken on the challenge of writing, performing, and recording a song a day for a year. He calls his project 365 Sparks. While he's not the only brave or crazy artist to undertake the Everest of songwriting, he's the best and most consistently good I've ever come across. Every song I've heard has its own quirky, emotional, fun, dark, sweet, thoughtful, or just-plain-catchy appeal.
I've had to write fast in my life – I once had a  three-year gig that required me to write three to four songs a week for a TV series. But I got paid for it and I didn't have to perform it and record it myself, so I feel like a loafer compared to this guy.  In any case, I can't help asking: How does anyone do this? WHY does anyone do this? And what happens after the first 100 or so days?
Instead of just wondering, I decided to ask. And he answered. How he found the time to answer, I don't know. He's got songs to write. In case you want to listen while you read, he posts his songs on 365sparks.com  and Soundcloud.
1. What did you set out to do with your 365 Sparks project?
Daveit: My goal with 365 Sparks was to try and do something extraordinary that would truly test my skills as a songwriter, musician and producer; in that order. The project itself was inspired by a near-death experience that I went through in October 2013 that made me realise I could have left this earth with hard drives full of hundreds of half-finished projects (songs, poetry books, albums, novel ideas, scripts etc.). I decided on that hospital bed that my next project was going to be A) Grand and B) Completed.
2. Where do your song ideas come from?
Daveit: Songwriting is probably the only passion I have in this life and it's been that way since I discovered the art when I was around 15/16. I only know how to play instruments because I realised this was essential in my pursuit of writing my own music.  Continue reading "365 Sparks: The Songs of Daveit Ferris"