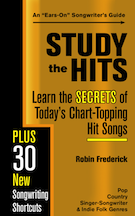 I've been working hard to bring you a brand new book and it's finally out. Study the Hits is DONE! There are 30 new songwriting shortcuts and 21 song guides to recent hits in the Pop, Country, Singer-songwriter, and Folk genres. If you're looking for something to spark your Pop hits, inspire your Film & TV songs, spur your Country creativity, check it out. It's 278 pages of songwriter LOVE for just $9.99. Click here to buy it on Amazon.com. Or click on the Study the Hits book image.
You don't even need a Kindle or e-reader to read the book. Just download the free Kindle app to your PC or Mac computer and open the book.  There's a link to the app right on my eBook page at Amazon. You can listen to the songs, read the lyrics, and study the Shortcuts all right there on your computer or tablet.
This book will show you how to get your hands on the latest songwriting tools and techniques straight from today's biggest hit songs. Read about a technique, listen to hit songs that use it, then try these cutting-edge songwriting tools in your own songs.
You'll find Songwriting Shortcuts that take you inside today's hottest markets and latest song craft skills:
• 6 Hit Songwriting Shortcuts
• 6 Lyric Shortcuts
• 6 Film & TV Songwriting Shortcuts
• 5 Music Shortcuts
• 7 "Ears-On" Kickstarter Shortcuts show you how to study any hit song and learn from it.
PLUS "Ears-On" song guides to 21 of today's top hits. We'll explore…
• 5 Pop and Pop/Rock Hits
• 6 Contemporary Country Hits
• 5 Singer-Songwriter Hits
• 5 Folk & Folk/Rock Hits
… to see what makes each one so successful.
You'll find "Try It Now" exercises in every Shortcut and Song Guide so you'll hear and apply contemporary hit songwriting techniques right away.
NOTE: This eBook contains active links to online videos and lyrics. An Internet connection and audio output are recommended.
Available soon for Apple iBooks.