An Original is a person living an authentic, creative life, one whose work expresses truth and emotion in a way that speaks to others. While a rebel breaks the rules, an Original bends them, plays with them, twists them around and reshapes them until the results are surprisingly unique and fresh.
To do that, you need to know what the rules are, then you can select which ones to play with and what you want to do with them. It's kind of like having the coolest Lego set ever. Once you know what's in the box and how it fits together, you can build something special and uniquely your own.
If I use song craft won't I end up being UN-original?
No, you won't be un-original because, even though you're working with the same set of song crafting techniques as other songwriters, you're going to use them in your own way.
Think of it like this: Shakespeare was undeniably original, but he followed the same rules of poetry and play writing as everyone else. In other words, he was playing with the same "Lego set" as the rest of us. It's what you do with what you've got that counts.
Here are a few thoughts on writing authentically while using song craft.
So, let's PLAY WITH OUR LEGOs.
No matter what level of songwriting you're at, you can start playing with your songwriter's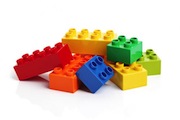 Lego set right now. Here's a list of ten song craft techniques you're probably familiar with, followed by some suggestions for totally messing with them. Try a couple and see where they take you. I've included examples of successful songs so you can hear how it worked out for someone else.
There's no need to write finished songs; this is just for the fun. But, of course, if you do happen to get something going that you like, by all means finish it. And don't be afraid to bend a few more rules along the way.
Song craft technique #1 (Melody)
=> Increase the energy in your chorus by putting it in a higher note range than the verse.
Play with it: Write a verse and chorus melody or rewrite an old one. Put your chorus in a lower note range than your verse. What kind of lyric does the lower chorus melody suggest? What emotion?
Examples are "You're So Vain" by Carly Simon and "Maps" by Maroon 5  which has a pre-chorus and chorus in the same range, both are lower than the verse.
Or you can try putting both verse and chorus in the same note range. Create contrast by varying the rhythm or phrase lengths of the melody. Example: Dierks Bentley's "Say You Do." (See the song analysis below.) For an R&B example, check out "Truth Is" by Fantasia.  Continue reading "Be An Original In A Play-By-The-Rules World"