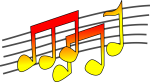 Let's say you've just spent the afternoon writing a song and you feel you've got a good start on a first draft. The concept is strong, the structure feels right. Of course the lyric still needs work but you're planning to go back and rewrite it.
But what about the melody? Will you go back and rewrite that, too? Or will you stick with the first idea that came to you?
Many times, a songwriter who wouldn't dream of settling for a rough draft of a lyric, uses the first melody that comes along. Often these melodies are the result of old habits; they may sound dated and familiar. The writer might not even know that a melody can be rewritten, strengthened, and polished just like a lyric. To give your song the best chance for success, make sure your melody works hard to attract listeners and put your emotional message across!
=> Melody makes your song structure easy to follow
Listeners don't like songs that seem to wander aimlessly. They like to know where they are and they like the feeling of structure that a good melody provides. To do that, create plenty of contrast between sections – verse, chorus, and bridge. Then the listener will know when they're moving from one section to the next. Successful songs use some combination of these three techniques for adding contrast to a melody: