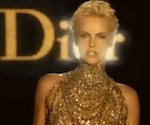 Here's a luxury perfume commercial (Dior) using a song with a raw Indie vibe. The song is "Heavy Cross" by  three-piece Rock band Gossip. Listen to the song and notice how the electric guitar is used to create contrast between sections and drive the beat. The drums back up the guitar in a tight arrangement that adds plenty of punch. No big synthesizer string sections, no horns, no orchestra banging in and out, It's just raw, good-ol' Rock energy.
Watch the commercial on YouTube.
The vocal
The band's singer, Beth Ditto, delivers attitude and power and she has a solid sense of pitch. You could record an edgy Rock song like this with either a male or female vocal. The singer's personality and energy level will need to match the track, but pitch may not be such a big issue. Think of the Talking Heads' "Remain in Light" album. There's a lot of that influence here, especially in the guitar tracks. David Byrne's vocals are expressive and full of character and energy; vocal pitch is definitely secondary.
Instrumental pitches
You could pitch a track like this as an instrumental and it would be a great match for many of today's brands. Music libraries like MusicSupervisors.com and HollywoodTrax.com (or some of the bigger ones like Megatrax) are very interested in high energy, raw attitude tracks like this without vocals. If you're a guitar player with the chops to do this look for  a good drummer who is willing to rehearse a track until it's tight. Grab a couple hours in an inexpensive recording studio and that should be enough to lay down and mix a track like this. Or use an online drummer and record guitars at home. It's possibly you might be able to do this with drum loops played by a live drummer (or a blend of live plus loops); just be sure it sounds real.
The deal
The licensing fee for a commercial like this one – a high end, well known brand – is the most lucrative payout you'll find in the TV music market. It could range from $50,000 to $100,000 for an established product. Often these payouts go to up-and-coming Indie bands that may or may not be signed. You can see similar ads for Heineken beer ("Golden Age" by Asteroids Galaxy Tour)  and Lincoln cars ("Major Tom" by Shiny Toy Guns). Just do a  search on YouTube.
by Robin Frederick